Tastings
A visit to château de Villeneuve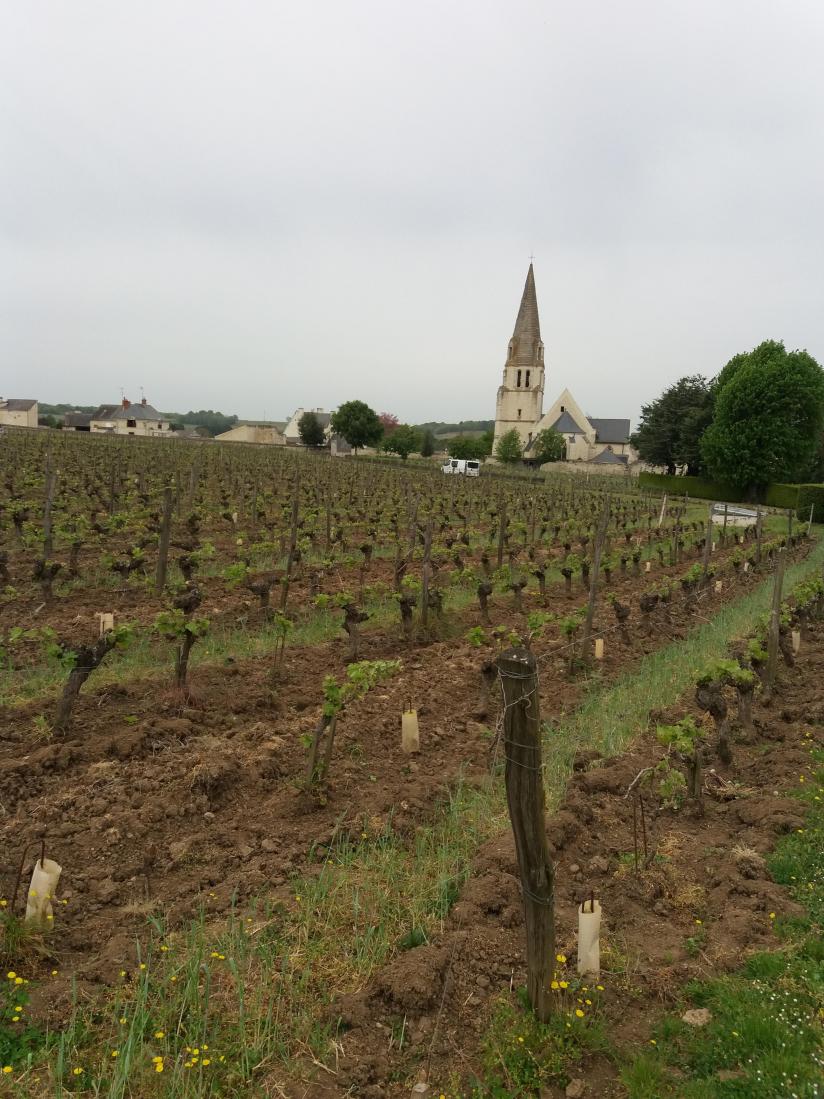 Tasted on site
2018 White Saumurs
Cuvée Château de Villeneuve
Vines are 30 years old. We harvest manually in small crates then the grapes pass on a sorting table. The grapes are pressed and then decanted 24h in vats at 5 ° C. The juice ferments from native yeasts. The wine is 70% high in vats, the rest in 600 liters tpns. The bet was held in early February. "In 2018, after the misfortunes of spring (mildew) and the heat of summer, there was a risk of over-ripeness! "Explains Jean-Pierre. This cuvée is marked by its grape with a lot of freshness and delicacy. A delicious wine that can be drunk right now.
 Cormée Les Cormiers (in aging)
 Famous historical soil of limestone covered with clay. The wine is vinified in tons of 12 hl then high 9 months in casks and tons of 600 l. Notes of fresh grapes, powerful wine with tension and elegance. Wine to be laid down for a while.
 Saumur-Champigny 2018
 Clos de la Bienboire (bottled)
Located not far from the Grand Clos, parcel (1.5 ha) of cabernet franc of 35 years. Jean-Pierre wanted to make a wine easy to drink, a wine of friends pizzant. He puts 2g / hl of sulphite at the harvest and then nothing even at stake. Cold pre-fermentation maceration of 4 days then put in vat by conveyor belt. Vatting 18 days at 25 ° C. Aging in vats. Bottling in early spring. Indeed, nose and mouth an explosion of red fruits, a real treat. One drink calls another!
 Old Vines (in aging)
This cuvée results from the assembly of the grapes of 3 plots. Vines from 65 to 85 years old. The vatting lasts one month at 35 ° C in wooden vats of 40 hl then is raised about 14 months in casks and tons of 500l of 2 to 3 wines. Thus the ratio wood / wine makes that the latter is not marked by breeding. Taste in lightnings: wine closed to the nose but voluminous, strict and spicy on the palate. The winemaker also tries the concrete eggs (the wine is stirred naturally with the lees): the same vintage is less austere, juicier, peppery and fresh.
 The Grand Clos (in aging)
 This wine comes from a plot of Cabernet Franc (average age: 50 years) surrounding the castle. It is produced only the great years. Pre-fermentation maceration of 4 days in 40 hl tronconic wooden vats and total destemming before maceration for about 1 month with manual pigeage. Aging 14 months partly in 600l casks and partly in casks. At no time does the wood dominate the wine but austerity is upfront for now. A nice juice still tight with length and tone. It will be necessary to wait a few more years this beautiful 2018.
Jean-Pierre Chevallier does not cheat. This winemaker anxious to do well does not use chemical fertilizers or pesticides and works his vines. It is hand-harvested, no yeast or chaptalise. Jean-Pierre admits that after having a rather Bordeaux approach to wine, he opts instead for a Burgundian vision preferring the infusion to extraction. He emphasizes: "In organic culture, we obtain more stable wines even at 13 ° and ph are lower. The roots really plunge into the ground. "
Soon retired, he intends to pass his hand to his daughters.
Château de Villeneuve, Jean-Pierre Chevallier, 3 rue Jean Brevet, 49400 Souzay-Champigny, tél. : 02 41 51 14 04
Where to stay and eat nearby
The troglodyte restaurant L'Hélianthe, alley Antoine Cristal, 49730 Turquant tel. : 02 41 51 22 28. Recently taken over, this restaurant shows courage by offering a wine list only made of Loire selected bottles. There are many references appreciated by the LeRouge&leBlanc: Joël Ménard, Yannick Amirault, the Boisard brothers, the Domaine de la Paleine, the Bablut estate, etc. Also a beautiful map of effervescent bream (Louis de Grenelle house among others). Too bad we do not indicate those who are in organic farming! Inventive cuisine from local products.
 
5 minutes walk from the restaurant, Le Balcon Bleu guest rooms, 2 rue des Martyrs, Turquant, tel. : 02 41 38 10 31. Just been taken over as well. Exceptional breakfast: salad of local strawberries, cake and homemade jams, savory breads from the Parnay bakery, 18 route de Saumur.